These site specific projects use patterns found on the insides of security envelopes to talk about ideas around privacy, security and surveillance, and to create stages for invented controllable worlds.
---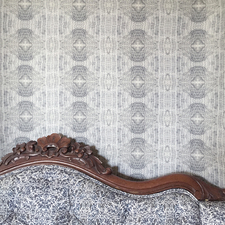 Neo, at the Milwaukee Art Museum
An installation in response to works in the Chipstone Foundation, on view in Neo, curated by Sarah Carter, at the Milwaukee Art Museum.

Settee, Security Envelope Wallpaper, and Textile , 2015

The Chipstone Foundation



For this installation I used the patterns from physical mail as a material, because of their associations with transparency and surveillance, and for their hidden beauty. Mostly unnoticed, these patterns protect privacy by preventing a viewer from seeing information enclosed in an envelope. They arrive in credit card bills and bank statements, in letters from a great aunt or a government office. Their profusion and rapid disappearance are by-products of the exponential change and easy money that pervade our culture. These throwaway envelopes are compelling for both their symbolic cultural resonance and impending obsolescence. They provide a rich trove of patterns whose role is to obscure, but that also speak eloquently of the human impulse to aestheticize every aspect of life. In their hidden state, they suggest human striving, wishing and longing. Turned outward, their function to conceal is exposed.


---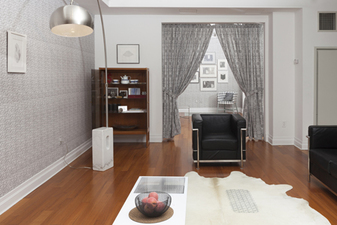 Apartment 2B, at DM Contemporary, NYC
This installation at DM Contemporary in NYC transforms a gallery in a residential building into an upscale apartment using the windows and patterns from the interiors of envelopes. All the furnishings, objects, wall coverings and ephemera are altered using the patterns. This security system on the insides of paper envelopes is meant to keep prying eyes from viewing private information: when held to the light, the printed text is blurred by the overlapping pattern. Turned inside out, they signify concealment but speak of exposure rather than privacy. Their rapid disappearance in the digital age is a reminder of the passage of time, and they point to our society's obsessive concern with surveillance and privacy.
---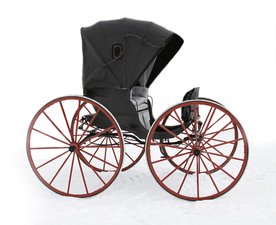 Overlander, Hamilton Gallery, Newport, RI
A Site-Specific installation created for the Hamilton Gallery at Salve Regina University in Newport, Rhode Island in 2012. The gallery is housed is what was formerly a carriage house for a mansion. The artist found a derelict 19th century Merrimac Carriage (c. 1888) on Craigslist and restored it using security envelope patterns.
---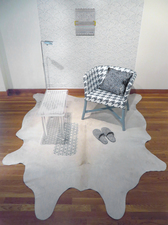 See Through
"See Through" uses security envelope patterns and windows as source material to create an upscale interior space where the protective patterning becomes an overall decorative motif. A cowhide rug is silkscreened with pattern that it is reiterated by the shadow created by a translucent table. On the wall, security patterned wallpaper and an abstraction, made from a blurred scan of a security envelope ask about what we protect and why.
---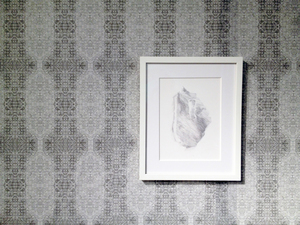 Westbeth North Light, Westbeth Gallery, NYC
Westbeth North Light was made for the gallery of the Westbeth Artists Community in Manhattan. The installation included furnishings that referenced the conversion of the building that was formerly Bell Labs by the Architect Richard Meier in the late 1960s. The source material is security envelope patterns and envelopes.
---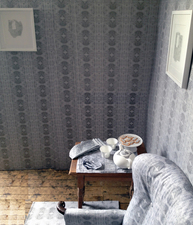 Prolonged Exposure and Repetition Delirium
Installations using Security envelope patterns, at Muriel Guépin Gallery and at the Invisible Dog Gallery in Brooklyn, 2012: one, evoking a 1980's waiting room, the other a parlor space.
---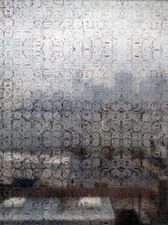 Twin Lens Reflex, Governor's Island, NY
Installed in LMCC's Building 110 Gallery on Governors Island, overlooking downtown Manhattan, and the passage my grandparents, and millions of immigrants made, this installation was created from 2 drawings of security envelopes found in Lower Manhattan. The drawings of the envelopes were used to create the wallpaper and curtain fabric, as well as the window laminate that alters the view from the window.
---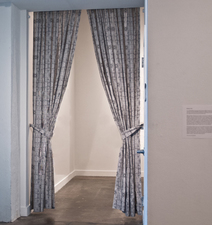 Day Job, The Drawing Center, NYC
A Site Specific Installation for the Drawing Center in New York City
---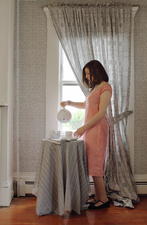 Tobey Street, Providence, RI
A site-specific installation project installed in Providence, Rhode Island in a historic 19th century private home, using security envelope patterns.
---
---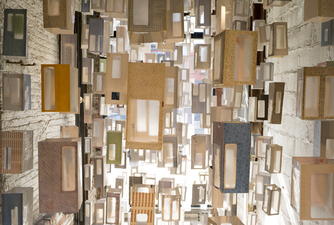 Security Envelope Objects and Installations
Installations, Objects, Wallpapers and Textiles made from reconfigured security envelope patterns.