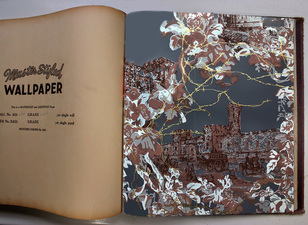 Maximum Security Wallpapers, Textiles and Installations
These wall coverings include 50 States, Penitentiary Wallpapers: screen printed historic papers altered with prison imagery, and digitally printed security envelope papers. Both projects adddress issues about privacy, surveillance and material comfort.
---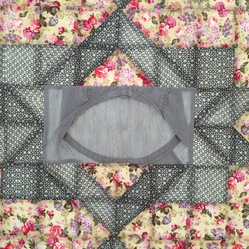 Maximum Security: Penitentiary Quilts
This series of quilts using aerial views of prisons questions our culture of surveillance and incarceration. A view of Guantanamo Prison on WikiLeaks was the genesis for this project; its quaint cottage-like form when seen from above belies the prison's wrenching history. Traditional quilt patterns have much in common with shapes found in prison design; they are typically symmetrical with blocks of repeating geometric shapes that radiate outward from a central axis. Many evoke Jeremy Bentham's panopticon, which was conceived as a central space from which a watcher could observe prisoners without being seen, to keep the incarcerated under a constant state of perceived surveillance and instill a sense of paranoia and behavior regulation. Quilts immediately bring to mind ideas of home, comfort, and security, of communities and their histories, of labor and women's work. They indicate a protected space. As heirlooms they carry narratives that are otherwise forgotten. Bringing these two seemingly polarized forms together allows me highlight the costs born by societies deeply invested in incarceration.